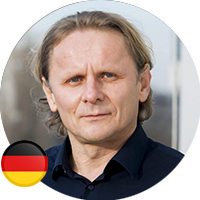 Ivan Djikic
Director of the Institute of Biochemistry (IBC2) in Frankfurt, Germany
Biography
Distinguished scientist, director of the Institute of Biochemistry (IBC2) in Frankfurt, Germany. Prof. Đikić has a Ph.D. thesis in molecular biology obtained at the University of Zagreb and at the New York University School of Medicine.
Prof. Đikić is member of several academic societies, including the number of organizations including the European Molecular Biology Organization (since 2004), the World Academy of Art and Science (since 2008), German National Academy of Sciences Leopoldina (since 2010), the American Academy of Arts and Sciences (since 2019), the Croatian Academy of Medical Science, and the European Academy of Sciences.
His research focuses on deciphering molecular mechanisms of cellular signaling pathways, which have a high relevance to human diseases such as cancer, neurodegenerative disorders and inflammation. Early on, he started to focus on ubiquitin to understand how this modification controls multiple cellular functions, and managed to prove a concept of ubiquitin signal recognition by specialized domains serving as specific receptors. More recently, his team has revealed the functions of linear ubiquitin chains in pathogen defense and overall immune response. He expanded his research to the field of selective autophagy, recognizing the enormous impact of the LC3/GABARAP signaling network displaying striking mechanistic similarities to ubiquitin.